X
9735
Cycle 3
| | | |
| --- | --- | --- |
| Race Census | M | F |
| Human | 2 | 1 |
| Linzin | 1 | 2 |
| Elenor | 1 | 2 |
| Ul'Torin | - | - |
| Draconean | 1 | 1 |
| Ronoan | - | - |
| Avial | - | - |
| Jingai | - | 1 |
| Total | 5 | 7 |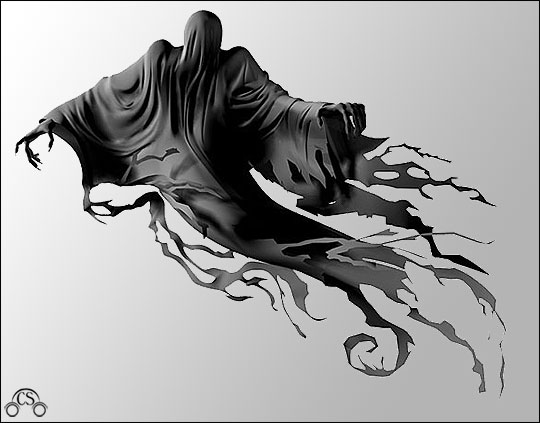 Picture of the Dementor, from Harry Potter.
Name:
Moon Agents
Type:
Undead, Biospheric
Class:
E
Terrestrial Locomotion:
Flight
Population:
Slightly Rare
Location:
Everywhere the operations take them.
Tamability:
Level 5
Appearance
All of the Moon Agents look exactly the same as the other. They are cloaked to the point of total obscurity, decked in completely concealing tattered robing.
Behavior
They act according to the will of the higher ups of the Children of the Moon. As such, they will not deviate from their orders. Because they are simply mindless zombies, resurrected by the Necromancy of the Children of the Moon, they are incapable of free will. They do not speak, only communicating through growls and low screeches. They do not move across the ground normally, opting to fly around their targets.
Size:
Regular
Height:
5'05"
Weight:
122.1 lbs.
Techniques
Smoke Manipulation
The user is capable of generating and controlling particles that are created by carbon dioxide igniting, which result in smoke. The smoke chokes and removes oxygen in the surrounding area. They can control any previously created smoke from fires, create their own smoke, etc.
Energy Level Class:
D
Weapons
None.
Strength:
1.2
Defense:
1.4
Magic:
1.2
Weapon:
0.1
Speed:
1.1
Discoverer:
--
__________________________________
"So now, I lie in crystal; waiting until the end of eternity."
"Youth ages, immaturity is outgrown, ignorance can be educated, and drunkenness sobered, but stupid lasts forever." - Erebus, to Snow and Miharu.
Character Creation
Game & Story
Snow Ariana
Plot/Permissions Page
Head of Spera




Warning Level

:




Posts

: 355


Join date

: 2012-12-30


Age

: 22


Location

: Outer Heavens





Similar topics
---
Permissions in this forum:
You
cannot
reply to topics in this forum